With vaccination rates rising and COVID-19 safety precautions being more incorporated into the collective "new normal," I've been feeling a bit more eager to share about all of the wonderful things that Kirkland has to offer. The best thing about working for the City of Kirkland is having a perfect excuse to explore what is arguably the most beautiful City in King County, talk to people, meet community members, take pictures of literally everything I encounter, and visit new businesses that have recently opened their doors.
My reporter-heart still beats strong within me.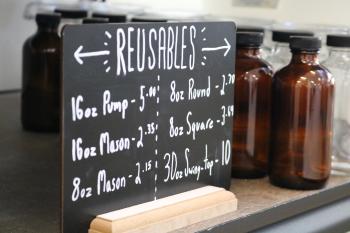 This weekend, I had one primary goal: visit Scoop Marketplace, a brand new zero waste grocery store that recently took up residence at Juanita Village. I first encountered Scoop at the Kirkland Downtown Association's Kirkland Winter Market and was instantly intrigued by the idea of a zero waste grocery store. Plus, the manager was really nice, and I like nice people, so, I was basically sold.
I found out they were moving from Seattle to Kirkland, and I was very excited.   
Scoop Marketplace is a unique store! The idea, is that customers bring in their reusable containers to scoop "as much or as little as they want" from Scoop's package-free food, home goods and personal care products. Scoop is on a mission "to normalize zero waste grocery shopping" and Scoop staff are "passionate about teaching people how to improve the quality of their lives while learning to walk more gently on the planet."
Scoop is on Facebook and Instagram.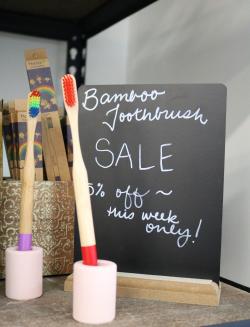 They are working to improve their space at Juanita Village (9743 N.E. 119th Way) and are offering temporary in-store shopping hours Thursdays and Fridays from 12 p.m. to 4 p.m., and from 11 a.m. to 4 p.m. on Saturdays and Sundays. They are looking for support as they build out their new space, so be sure to stop by and welcome them to our community!
Luckily for me, there were two fantastic popups at Scoop when I stopped by. One was Puddles Barkery, a Seattle-based small business that features hand-crafted natural dog treats. These treats are approved by the owner's own picky pup, a glorious looking Siberian Husky, who serves as the official company taste tester. Puddles Barkery is based in Seattle, but of course I did my best to talk the owner into hosting a booth at our Juanita Friday Market this summer. I am a dogless dog enthusiast, so my pocketbook was safe at this booth… Although I'm kicking myself now for not stocking up on some healthy treats I could have used to make friends with all the Kirkland dogs I encounter.
If you'd like to know more about Puddles Barkery, visit the Instagram page. You can find custom treats by Puddles at Pickles Playland, located in the Rose Hill area.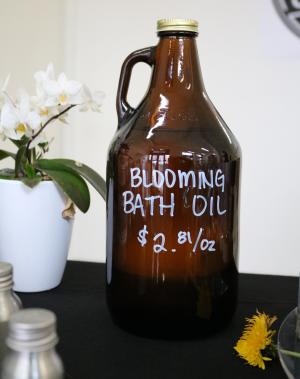 Next, I chatted with the owner of Finestida, and knew instantly that I'd not be getting out of there without making a purchase. Finestida is the intersection of passion and purpose! Owned by women, this company is based in Kirkland, and specializes in bath products, like bath bombs and delightful scented scrubs, hair and skincare products and more. All of the ingredients used in Finestida products have been carefully chosen based on safety, purity and sustainability. They are high quality and ethically sourced. You can tell the moment it's on your skin!
She's got a lotion stick which is so innovative and neat, smells great and is perfect for my ever-present dry hand syndrome that comes from washing my hands 5,000 times a day. It also has a little bit of sparkle, which is something that everyone needs. Literally.
Not only are the products great, Finestida donates a percentage of its sales to local food banks, and that's not all! Finestida was actually founded to support the academic success of women. To learn more about this amazing mission, visit the Finestida website, located here. Also, find them on Instagram.
Finestida products are available for sale in PCC Community Markets, and you can also order from the online store. While the Finestida popup is not available every day at Scoop, you can find Finestida's "Blooming Bath Oil" which is available by the ounce. Bring your own container!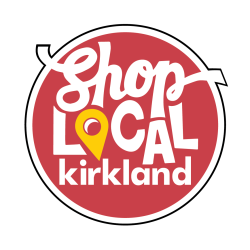 Look for Finestida on Shop Local Kirkland soon, because of course I did my best to compel the owner to sign up for this free resource that we offer to Kirkland-based businesses. If you haven't checked it out, you should! It's a super eclectic collection of small businesses that call Kirkland home. My very own tagline that I invented myself is "You never know what you'll find on Shop Local Kirkland!"  
As I left Scoop toting my bag of body scrub, lotion and bath bombs, I felt almost triumphant, like I had just unraveled a great mystery, or accomplished something that I'd never done before. I think it's because I've engaged in so little of this type of shopping in the past year. Other than grocery stores, I haven't really shopped, except for a couple random indulgences at Lady Yum.
I mean, who can blame me for that one?
As I approached my car, I gazed longingly at the Deja Moo Burger Bar, a brand-new specialty burger place owned by the same folks who brought the world Tipsy Cow, which is astonishingly delicious. As a child of the 80s, I have to say, any place where I can hear Cinderella's "Nobody's Fool" blasting from the speakers is my kind of place. Deja Moo is currently open for takeout and in-person dining and boasts some incredible sounding burgers like the "Lil' Beast," "Wine Snob" and several others that made my mouth water while writing this.
In addition to burgers, Deja Moo features awesome salads, milkshakes and custom fries and onion rings. Visit the Deja Moo website to see the menu!
Next, I wandered on over to Juanita Bay Park, which is easily walkable from Juanita Village. I drove, mostly because I was hauling my camera gear. Juanita Bay Park has a great parking lot right at the park's entrance where you'll also find maintained restrooms. As a sidenote, another awesome attraction in Juanita right now is our brand-new playground at Juanita Beach Park, a long-awaited improvement and one of the City's successes of 2020!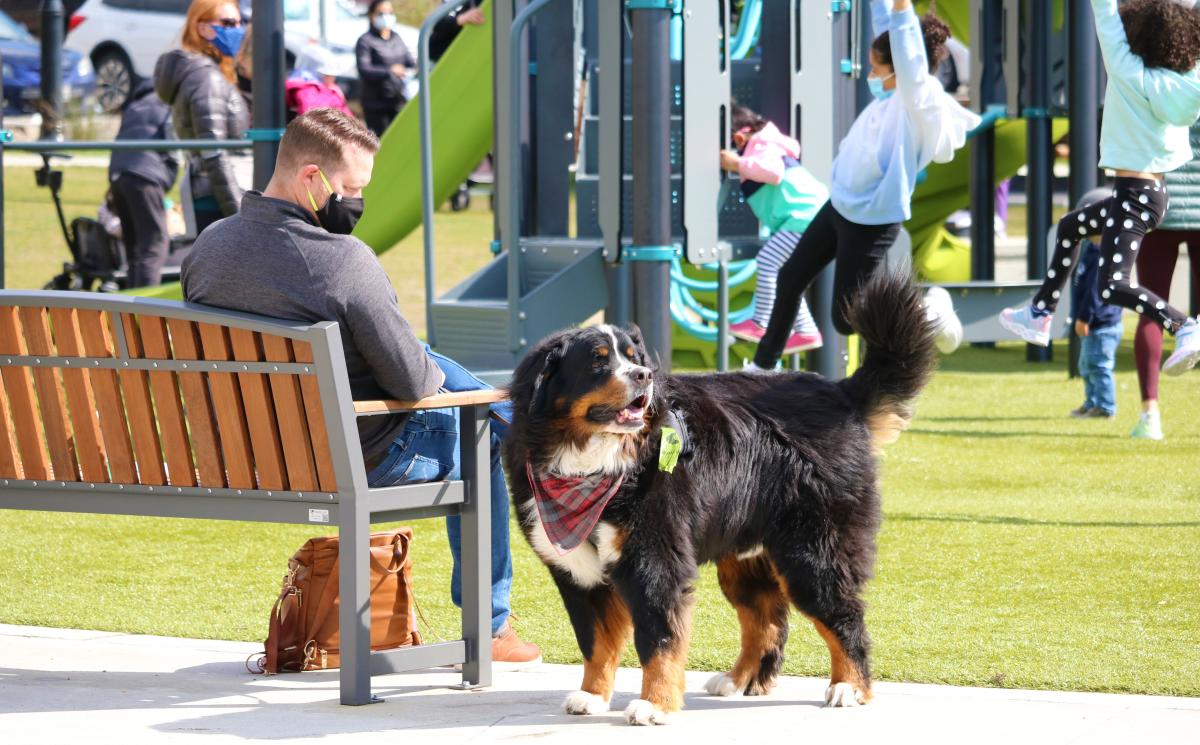 That project persevered through the challenges of the pandemic, and finally, after some agonizing last-minute delays, we opened the new playground on the day before Christmas!  
I don't have kids, so I only paused briefly at Juanita Beach before heading over to Juanita Bay. I love Juanita Bay. It never gets old.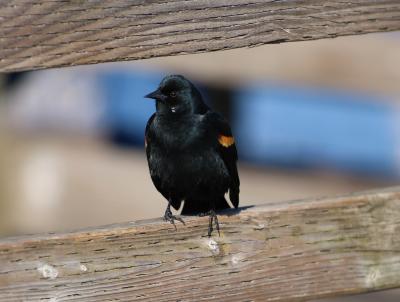 Juanita Bay Park is a 110-acre wildlife mecca located right on the shores of Lake Washington. Once a nine-hole golf course, today Juanita Bay Park is a thriving landscape filled with wetlands and fun wildlife that will charm even the grumpiest curmudgeon. It's one of those places that you can visit over and over again, and you'll find amazing new things to appreciate every time you go.
It is in Juanita Bay that I discovered my love of bird watching, as I was instantly enamored with the challenge of trying to capture those fast, fluttering creatures with my lens.
Juanita Bay is a popular spot for photogs, who gather on the docks in clusters to wait for something amazing to happen. And it always will if you wait long enough. It's a fun, friendly, welcoming community of folks, whether novice or old school shutterbug. All are charmed by Juanita Bay's resident eagles, and many will wait for hours for one of those stunning birds of prey to suddenly come off its perch and dive for fish in the waters of Lake Washington.  
The quiet inlet in the middle of the park is a chorus of cheerful songbirds who serenade guests as they wander the boardwalks. You will never regret time spent in Juanita Bay!
Staycations and day trips have gained massive popularity as a result of the pandemic, and I can tell you that Kirkland is a staycation and a day trip destination! Whether you stay the night or not, come and rediscover Juanita and am confident that you'll have an amazing experience!
Importantly, please tag #kirklandwa in all your bird pictures on Instagram.