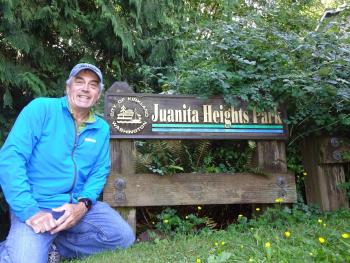 Kirkland resident Perry Clawson has always appreciated the City's lush network of parks and natural areas, but during the pandemic, that appreciation grew into something more.

A Kirkland community member for 20 years, Perry lives in the Finn Hill area with his family and their dog Angus. He and Angus have routinely taken to the local trails to enjoy the outdoors, but during the pandemic those escapes into nature proved invaluable in helping to counter the stress of the state-imposed stay at home orders. No matter how claustrophobic things felt in a world where activities were limited, businesses were temporarily shuttered and even the smallest group gatherings were discouraged, he knew that he could find solace in the beautifully wooded areas near his home.

A bit of an adventurer at heart, Perry's outdoor journeys sparked a desire to branch out and explore other Kirkland parks not typically on his route. As he began looking at maps, locating parks and plotting courses, an idea started to form. He wondered if anybody had ever walked to every park in Kirkland.

It seemed like a fun thing to do, so he figured, why not?

Deciding to wait until spring or summer to help ensure favorable weather, Perry began his mission of walking to every Kirkland park on June 1. He carefully crafted routes meant to include as many parks as possible on each day. All told, it took him a total five days to walk to all of Kirkland's parks, plus a couple parks in Kenmore and Bothell for good measure. His mileage each day varied, totaling 80 miles by the time he was done. His shortest day came in at around six miles, his longest, a showstopping 22 miles.

To commemorate and document his experiences, he deployed a small tripod and camera at each park and snapped a picture of himself in front of the official park sign.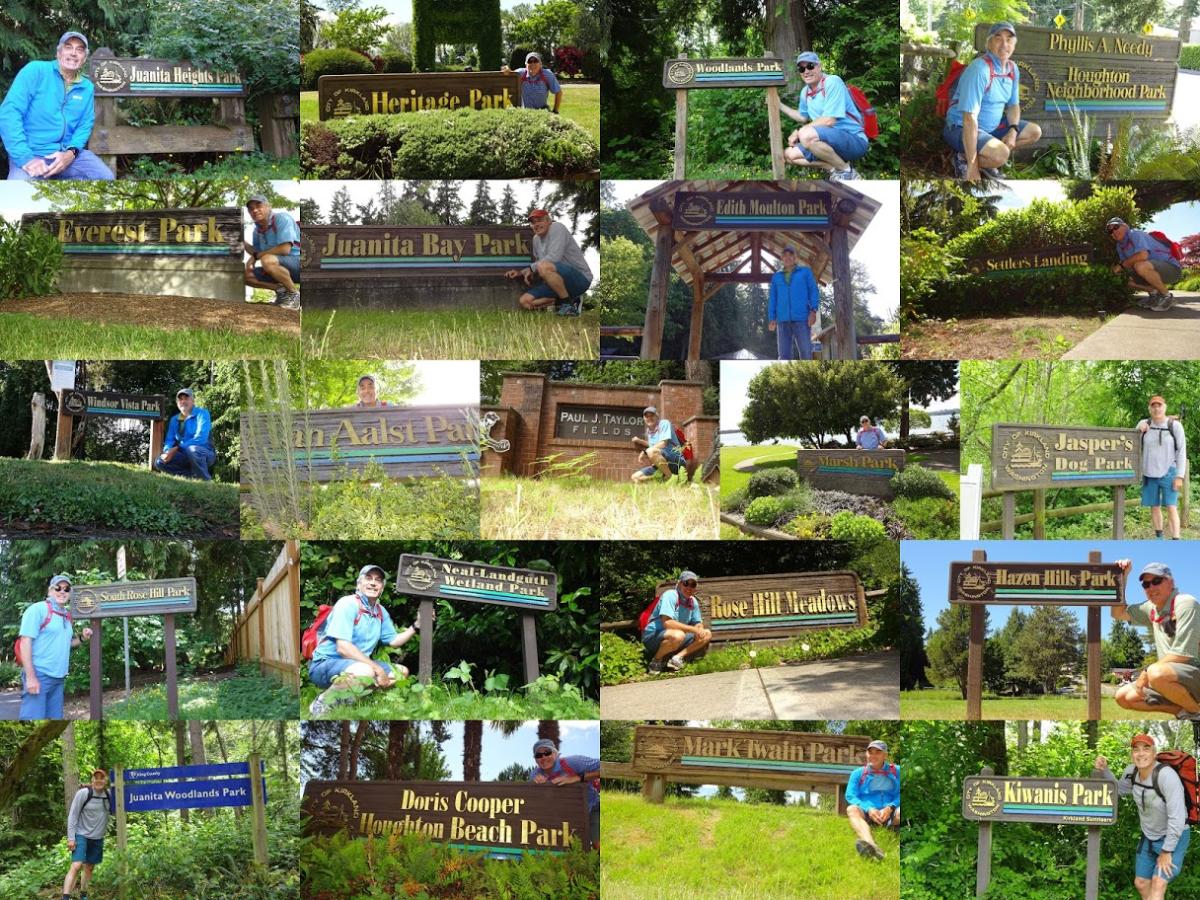 One of the most rewarding aspects of his mission was the opportunity to watch firsthand the City coming back to life after over a year of strangeness and uncertainty. He deliberately took the backroads because it gave him the chance to experience neighborhoods he'd never seen before. People were friendly and cheerful as they tended their gardens and performed other miscellaneous outdoor chores.

Best of all, Perry said, was the flurry of activity in the parks. He saw kids running, swinging, sliding, and playing on play structures, plus families enjoying time together. He saw parents teaching their kiddos how to play golf, and people of all ages engaged in a variety of sports including frisbee, little league, and everything in between. The parks breathed life and it was a wonderful thing to experience.

"Overall, I was just super impressed with Kirkland, and I was happy to see in almost every case people were using the parks," Perry said. "I thought that was awesome."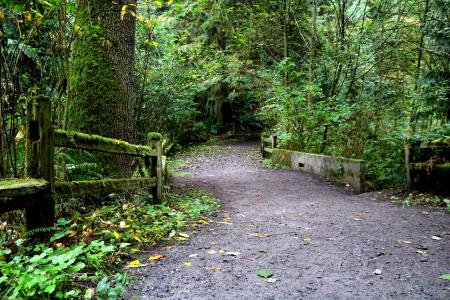 𝗙𝗮𝘃𝗼𝗿𝗶𝘁𝗲 𝗣𝗮𝗿𝗸 – 𝗢.𝗢. 𝗗𝗲𝗻𝗻𝘆

O.O. Denny tops Perry's list as his favorite park because it's such a versatile, vibrant, multiuse space. There's also the convenience factor, as O.O. Denny is close to his home, and he can walk there easily. O.O. Denny offers covered areas for parties and picnics, shoreline beaches for wading and swimming, and, Perry noted, it's a great spot to launch a kayak. The forested area that surrounds Denny Creek and stretches up to Juanita Drive is lush, green and beautiful any time of year, with an incredibly accessible trail system, and even one very famous tree.

𝗠𝗼𝘀𝘁 𝗦𝘂𝗿𝗽𝗿𝗶𝘀𝗶𝗻𝗴 𝗣𝗮𝗿𝗸 – 𝗠𝗰𝗔𝘂𝗹𝗶𝗳𝗳𝗲 𝗣𝗮𝗿𝗸

Retired now, Perry used to drive past McAuliffe Park twice a day as a commuter, and always thought it was little more than a kids' playground. But his City-wide parks adventure allowed him to experience McAuliffe in a whole new way. McAuliffe is located on a historic farm site, and as such, is adorned with various farm-related treasures, including two historical windmills, a barn, various antique farming implements, rustic gas station memorabilia, a community garden, grassy fields, an orchard, a playground and more.

𝗠𝗼𝘀𝘁 𝗜𝗺𝗽𝗿𝗲𝘀𝘀𝗶𝘃𝗲 – 𝗪𝗮𝘁𝗲𝗿𝘀𝗵𝗲𝗱 𝗣𝗮𝗿𝗸

Perry's 22-mile day landed him at Watershed Park, one of the City's lesser known assets. Watershed is one of the City's southernmost parks, sandwiched in between Yarrow Bay and Bridle Trails State Park. Perry was impressed by Watershed's extensive trail system and its thick, lush tree canopy, which creates a peaceful environment for anyone needing a quick escape. The abandoned reservoir adds a layer of allure and mystery to this park, which also offers a stunning view of Mount Rainier.