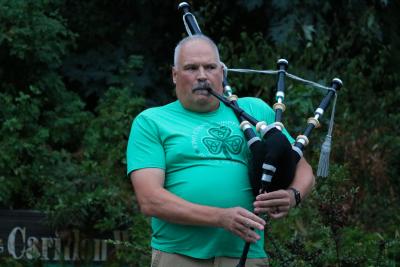 There is nothing quite like the sound of a lone piper, generously offering their song to the setting sun.
For many, the bagpipes elicit an emotional response that resonates deeply. That powerful, one-of-a-kind skirl sparks an uncommon blend of both sorrow and happiness, mesmerizing listeners as it soothes souls, spreads hope, inspires connection and brings joy. Kirkland resident and Redmond Firefighter Steve Gengo enjoys being the bringer of that joy, playing his bagpipes in different parks and public locations throughout Kirkland, Redmond and beyond. He plays for free, he plays at sunset, and he plays for anyone who cares to listen. He might even take a request or two.
While not necessarily musically inclined, Steve picked up the bagpipes a little over four years ago, motivated by their profound historical reverence and long-standing ties to the fire service. For police and firefighters, the bagpipes are steeped in tradition, used to honor the memory of those who have lost their lives in the line of duty, to build community, and to commemorate special occasions.
He was taught and mentored by Seattle Bagpiper Neil Hubbard, the instructor for King County Firefighters Pipes and Drums, of which Steve is a member. King County Firefighters Pipes and Drums welcomes pipers and drummers from all over King County with the exception of Seattle, which has its own police and fire pipe bands.
One of the key components of the band's four-pronged mission, is to "strengthen bonds and goodwill in the community by performing in community parades and other public celebrations."
It is in this realm that Steve has carved a niche, embarking on a musical journey that rendered as 200 nights of live, impromptu performances, which began last year shortly after COVID-19 became rooted in our community and communities around the world. For Steve, it was a way to cope and help others cope as well. It was not only an opportunity to hone his craft, but also a chance to briefly shed the all-encompassing world of N-95 face masks and Personal Protective Equipment, to bring something unique and heartfelt to his community of listeners.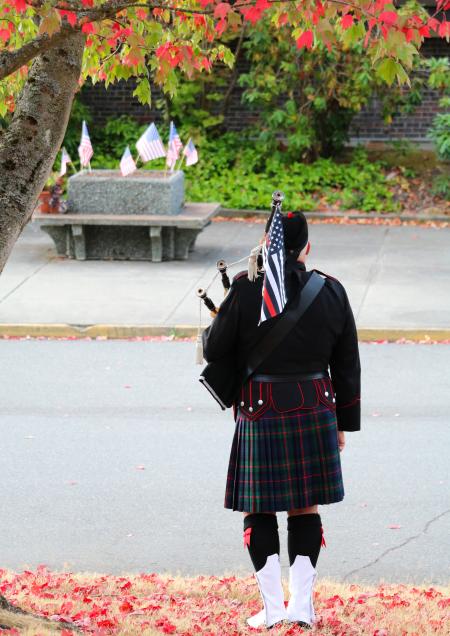 After his 200th performance he took a short, well-earned break. He picked up his pipes again after Thanksgiving and played throughout the holiday season. This year, he is doing it all over again, and is currently working his way through his 200 sunset performances.
He sometimes posts information about where he'll be on social media, so that people can follow along if they like. On a recent Saturday night, parkgoers discreetly pulled up at Carillon Woods Park shortly after 8 p.m. and waited patiently for Steve to arrive. He materialized just before sunset and strode purposefully to the northeast corner of woodsy space, the setting sun behind him to the west as he played. His small entourage gathered in the street, listening wordlessly as the sounds filled the dusky evening. A door opened across the street and a couple emerged from their home to take in the music.
All applauded his efforts after the show, which ended with Amazing Grace and Taps.
Steve will keep going until he gets to 200, and like last year will take a break before returning to the parks and public spaces to play for the holidays.
You can often find him in Kirkland because Kirkland is his home.
Steve grew up in Kirkland and has lived here nearly his whole life. He moved to Snohomish County for roughly a decade after he and his wife first married, eventually returning to Kirkland to raise their children. They settled in the Kingsgate neighborhood where he and his wife still live today.
Steve didn't always dream of becoming a firefighter. As a young kid, he had visions of wearing a suit and working in an office. But years in Boy Scouts, including achieving his Eagle Scout rank, gave him a heart for service and a strong desire to help others. Eagle is the highest attainable rank in all of Scouts, involving an arduous, long-term review process that few Scouts successfully complete.
Steve will celebrate his 29th year with the Redmond Fire Department on New Year's Eve, and while he's enjoyed a fulfilling career with Redmond Fire, his commitment to the fire service actually began in Kirkland. Steve became a volunteer with the Kirkland Fire Department in his early 20s and was immediately smitten with the profession. He remembers his very first night on shift at the Kirkland fire station formerly located on NE 85th street. It was sunset, and as brought his gear into the station, he was captivated by the way the last golden light of the day shone into the bay, lighting up the rigs inside.
He decided then and there to trade the suit and tie for bunker gear, boots and a hose.
Playing the bagpipes in public has led to many rewarding and meaningful encounters with people from all over Kirkland and beyond. He's had people from Scotland tell him that his playing instantly touched their hearts, bringing them cherished memories of home. Others have approached him so choked with emotion that their stories remain untold, as they were barely able to utter the words "thank you."
Gratitude abounds, community flourishes and strangers are connected each time he plays.
One recent night at the newly opened Totem Lake Park, he was approached by a man who had been having dinner at Café Veloce, heard the unmistakably reedy notes of the bagpipes, and came outside to investigate. He stood in awe as he watched Steve finish his set, which typically concludes with Amazing Grace and Taps. Afterwards, the man explained that he was astounded to hear the tones of Amazing Grace, having just come from visiting his son, who lay in a coma at EvergreenHealth.
He confided that he frequently sings Amazing Grace to his son while sitting at his bedside.
Moments like this are vastly meaningful to Steve, who has enjoyed the immeasurable rewards of musical connection just as much as his listeners. We want to encourage everyone to catch a performance, and to thank Steve for his legacy of service to the Kirkland community and beyond.
Thank you, Steve!