Park Lane Outdoor Sculpture Gallery
Sculpture #1 located on Park Lane near Sirena Gelato
Artist: Long Gao
Title: "Spring Song"
Medium: Cedar
Price: $4,000
Artist Statement: "For this project, I was inspired by the cultural totems of early ethnic inhabitants at the Southwest border of China. Totems reflected the inhabitants' spirit, beliefs, and ideology. They expressed wishes for procreation success, disease elimination, an abundance of happiness, but most importantly, a prayer for mankind. This was a prayer of gift and hope for all. My sculptures weaved aspects of the early Chinese ethnic cultures into the conflicting truths of human nature in today's civilization. Hope, though a luxury, is a necessity and the unifying song of all."
Located in Lynnwood, Washington, Long Gao's inspiration to create art comes from an intuition rooted in the philosophical concept of balance.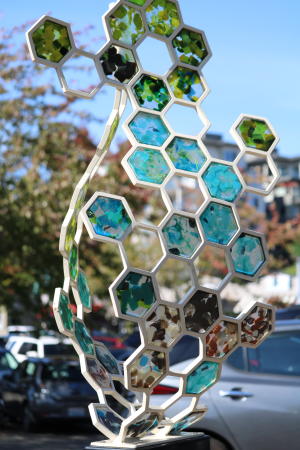 Sculpture #2 located on Park Lane east of the Lake & Central Street Lot near F45 Training
Artist: Lin McJunkin + Milo White
Title: "Interwoven"
Medium: Powder-Coated Steel & Cast Glass
Price: $4,500
Artist Statement: "The colorful hexagons weave their narratives between the two strands, much as human communities do. Our work often advocates for the health of our planet and its inhabitants and the hopeful vision we have for our human future on this planet."
Located in Skagit County, Washington, metal sculptor Milo White and glass artist Lin McJunkin are an award-winning duo. The two are well known for their artistic vision and skill in their own mediums, as well as their remarkable ability to weave the two together.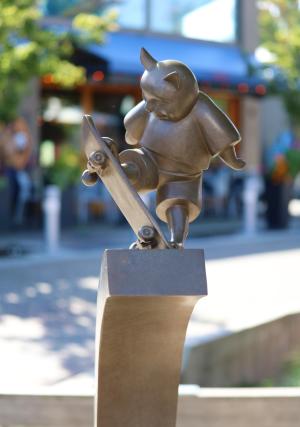 Sculpture #3 located on Park Lane outside of Zeeks Pizza
Artist: Haiying Wu
Title: "Challenge"
Medium: Bronze & Stainless Steel
Price: $20,000
Artist Statement: "Challenge expresses the fearless spirit of human beings to challenge the limit and cross the self through a cartoon skateboard cat. It symbolizes the prosperous, lively, open and positive multicultural atmosphere of Kirkland."
Haiying Wu is a Chinese American artist known for his sculptures. Born in China, Haiying has lived in the United States for over 15 years and considers it his home. He has a Master of Fine Arts degree from the University of Washington School of Art.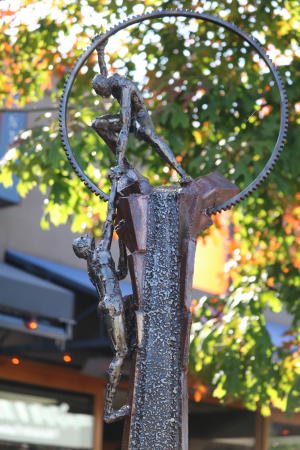 Sculpture #4 located on Park Lane outside of Cactus
Artist: Nathan Robles
Title: "Our Climb Together"
Medium: Recycled Steel
Price: $20,000
Artist Statement: "This sculpture represents the journey of life and the need for one another as we go through our struggles and triumphs. We are better together in our diversity. We share a common humanity that transcends any differences that seem to divide us." 
From Kennewick, Washington Nathan Robles creates sculptures out of recycled steel. From his artist statement: "In my work I attempt to create pieces that have the same fine art quality as a bronze sculpture. I have developed techniques that allow me to create the illusion of life, movement and emotion with materials that were previously discarded and 'lifeless.'"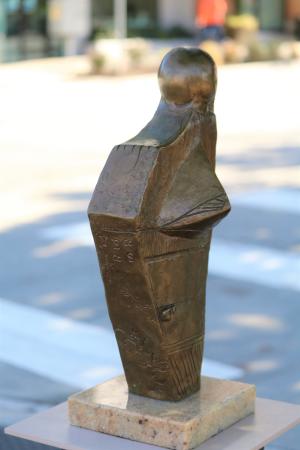 Sculpture #5 located at the NW Corner of Main Street and Park Lane
Artist: Sara Ybarra Lopez
Title: "Tell Her I Miss Her"
Medium: Cast Bronze
Price: $4,000
Artist Statement: "Tell Her I Miss Her is an abstracted torso reminiscent of the style of Chiricahua Apache artist Allan Houser. I visited the Allan Houser compound outside of Santa Fe, New Mexico, becoming acquainted and duly impressed with Houser's wide-ranging work. This piece is my homage to Houser's figurative technique."
Located outside of Port Townsend, Washington, artist and sculptor Sara Ybarra Lopez operates Carapace Arts with Mark Stevenson.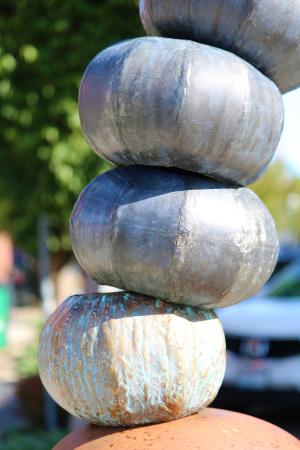 Sculpture #6 located on the NE corner of Main Street and Park Lane
Artist: Rodger Squirrell
Title: "Discombobble"
Medium: Steel
Price: $12,800
Artist Statement: "This sculpture responds to the 2020 pandemic and the George Floyd killing that resulted in widespread horror and confusion. I see wrongs that need to be righted. Not impossible, just there and visible. Going through the jumble of fear and sorrow that is our past is our only way forward." 
Rodger Squirrell is a NW sculptor whose work consists primarily of free-standing outdoor metal sculptures.  
About the Park Lane Outdoor Sculpture Gallery
We are incredibly excited to show off our 2021 - 2022 Park Lane Sculpture Gallery!  
Located in the heart of downtown Kirkland, the Park Lane Outdoor Sculpture Gallery is funded through a grant received from 4Culture, the cultural funding agency for King County. We would like to extend a HUGE thank you to 4Culture for its important efforts to promote arts and culture throughout King County.
We'd also like to thank the Kirkland Cultural Arts Commission's (KCAC) Park Lane Outdoor Sculpture Gallery Committee for their tireless work to bring this exhibit to life! This small but mighty team of hardworking City volunteers worked relentlessly to see this project through from start to finish. Without the crucial grant funding from 4Culture and the hard work of the KCAC and its Park Lane Committee, the Park Lane Outdoor Sculpture Gallery would not exist. We are grateful!
Another huge thank you to our amazing Public Works team who guided the installation process to ensure that each work of art was installed safety and securely. We appreciate you Public Works!
Lastly, we want to acknowledge the important contributions made by our volunteer jury! We are so appreciative of our jury's careful guidance and insight as we worked to select these works of art for public display in our community. 
Park Lane is located in downtown Kirkland south of Central Way and north of Kirkland Avenue off of Lake Street. During the summer, the street is opened to people walking and wheeling, creating a vibrant pedestrian environment filled with art, fine dining and the best in boutique shopping. 
The theme of this exhibit is "Intersectional Voices," which was chosen to reflect two Resolutions that the City of Kirkland has adopted. The artwork is meant to invigorate, inspire and energize the Kirkland community, communicate Kirkland as a safe, inclusive and welcoming place, celebrate diversity, and honor social and racial justice qualities that are in accordance with Kirkland Resolution 5240 (2017) which affirms that Kirkland is a safe, inclusive and welcoming community, and Resolution 5434 (2020) which affirms that Black lives matter. Our request for artist's proposals sought works that reflect the tenets of these resolutions. More information about the City's ongoing work to dismantle structural racism, including links to the Resolutions in their entirety, can be found here.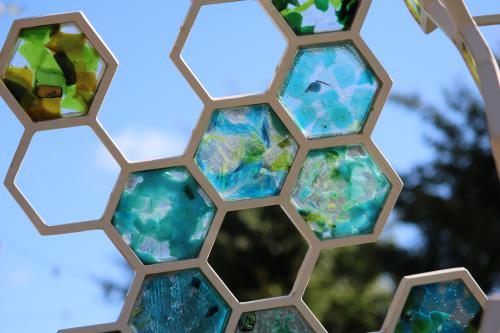 Our Call for Art went out over the summer, drawing numerous artists from all around the region. Next, our Park Lane committee recruited a volunteer jury to assist with the deliberations. The below sculptures were selected to populate the six plinths on Park Lane based on their alignment with the theme, their overall aesthetic appeal and various other considerations. The art was installed in early September. These amazing pieces will be on display on Park Lane until 2022 and are available for purchase. If you are interested in purchasing one of the sculptures, please reach out to Kirkland Arts Staff at arts@kirklandwa.gov, who can connect you with the relevant artist.
Thank you so much for taking the time to learn more about our outdoor art gallery! 
Find Out More
Years ago, City officials had the foresight to plan parks alongside Lake Washington so the public could enjoy the expansive waterfront.
Kirkland is home to beautiful waterfront parks and beaches with an array of boating activities. Spectacular year-round sunsets reflect the mood of the region and the season.
See All Things to Do