A Dog's Day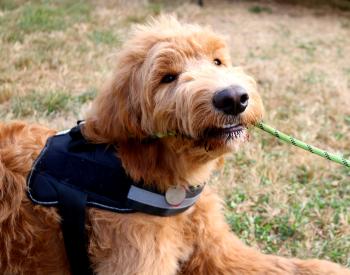 Believe us when we tell you… When it comes to dogs, we totally get it. 
We wouldn't want to spend a weekend away from our devoted pups and we don't want you to either. 
Your dog is a bona fide member of your family and it just wouldn't be a weekend getaway without him or her taking a leading role in the adventure. In Kirkland, we love our dogs, and want to help you plan the quintessential tail-wagging mini-vacation, complete with sunny, creekside trails that invite exploration, lakefront swimming holes perfect for tossing sticks, tasty and healthy snacks for your pet, exclusive off-leash dog areas, and restaurants that not only welcome your dog but go out their way to cater to their every whim. 
Check out a few of our favorite, dog-friendly hot spots and start planning your wondrous, dog-friendly Kirkland experience!
24 Hours in Kirkland with your dog….
Kirkland is a sparkling lakeside city known for its rich history, beautiful parks and strong sense of community. If you're not immediately won over by the gorgeous scenery, you'll be seduced by its livable charm and its heart-filled, resilient spirit.   
Stay at The Heathman or the Woodmark
Because every good adventure needs a cozy basecamp, grab a pet-friendly room at the Woodmark Hotel, located at the luxurious Carillon Point, or The Heathman Hotel, tucked right into Kirkland's charming downtown core. Both the Woodmark and the Heathman offer custom pet-friendly packages meant to spoil your canine in style! The Heathman's pet-friendly accommodations include signature dog biscuits made by the Heathman's culinary team, plush doggy beds and a food and water dish, while the Woodmark's "Woof, Wag & Worry Less" package comes with cushy dog beds, food dishes and a custom pet amenity including treats and your pet's very own Woodmark tennis ball. 
Chainline Brewing Company
Who doesn't love instant gratification? If you're interested in a walkable adventure that will land you right at the doorstep of beer and doggy heaven, head on over to Kirkland Urban and visit Chainline Brewing. Recently relocated from its former location near the Google Campus, Chainline Brewing has a welcoming outdoor patio area with plenty of room for you and your pet. Chainline specializes in the finest Northwest style ales and lagers and serves lite bites, including delicious flatbread pizzas and salted pretzels. If you know anything about Chainline, you know that they love dogs! Sidle on up to the bar for custom brews served with a side of dog treats. Please check the Chainline Facebook page for updated hours as this local business accommodates shifting COVID-19 protocols. You can also order online for in-person curbside pickup or delivery.  
At Grape Choice, you're not only rewarded with some of the finest patio seating and the most glorious lakefront views in Kirkland, but you are welcomed by a gentle golden retriever named Rhone, who just happens to be the sweetest and wisest host in all of Kirkland. Your pup is welcome to join you in this wine-filled mecca, which has been Kirkland's premier wine merchant for over 30 years! Visit the Grape Choice Facebook page for information on featured wines, patio hours and more. 
As dog lovers all know and understand… Sometimes you've got to simply let your dog be a dog, and what better way to do that than allowing them some quality time to sniff everything there is to be sniffed and to chase balls to their heart's content?
Discreetly tucked into a quiet, north Kirkland neighborhood, Edith Moulton Park is a lush, 26-acre old-growth conifer forest that offers vibrant green thickets, an ambling creek, interpretive trails, children's play equipment, accessible walkways, a covered picnic area, and its very own off-leash dog park. The fully fenced off-leash space offers a double-gated entry system for safety and ease of ingress and egress. Enjoy the interpretive trail system as you explore this former farm site, and you'll naturally encounter Edith Moulton's off-leash area discreetly positioned at the south end of the park. 
Dogs everywhere give Edith Moulton's off-leash dog park a resounding paws up!
Prim & Pawper Pets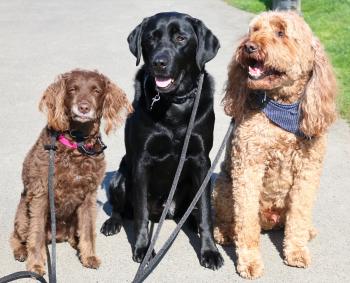 The magic of dogs is not to be denied. They're fur-covered antidepressants, faithful companions, elite guardians, and the most loyal friends you'll ever find. From pet "pawdicures" to wine-tasting with your dog, to puppy play dates, Kirkland offers endless opportunities to spoil your fur-faced BFF. A shopping spree at downtown Kirkland's Prim & Pawper Pets is the perfect way to treat your pup, with its extensive selection of small batch, locally crafted all-natural food and treats, plus its fun, gourmet doggie bakery! Shop online or in the store for all the best in doggie donuts, mini "pupcakes," puppy birthday cakes, cookies, truffles and more!

Prim & Pawper is located at 115 Lake Street, in the heart of Kirkland's lakeside downtown core! After you're done shopping take a stroll through Marina Park, located right around the corner, which is coincidentally where you'll find The Grape Choice and Flatstick Pub, two amazing, dog-friendly businesses that cater to pups as much as they do people!
Visit Juanita Bay Park
Make sure you pack your leash if you plan to visit Juanita Bay Park, as leashes are required in all Kirkland parks, with the exception of our designated off-leash areas. Juanita Bay Park is known for its gorgeous 100 acres of lush wetlands, gorgeous treed walkways and awesome lakeside vantage points. You'll encounter many four-legged family members while you're there, and your pup will love exploring this wonderful park.